Here is a guide to introduce you to our treatment center and therapy programs and help you know what to expect before you arrive.
Congratulations on taking the first step toward a healthier, happier life! We are excited to welcome you to Denver Mental Health and Counseling and are honored to be a part of your healing process — we'll be with you every step of the way.
Denver Mental Health and Counseling Welcome Guide
The guide below will introduce you to our treatment center and therapy programs and help answer frequently asked questions to help you prepare for your visit.
Important Notice Regarding Coronavirus (COVID-19)
We are closely monitoring all developments associated with the coronavirus (COVID-19) and are taking proactive steps to ensure the health and safety of all patients, employees and the communities we serve.
Please note the following updates:
Face Mask Policy:
Following the latest CDC recommendations for controlling the spread of COVID-19, all patients are strongly encouraged to wear a face mask while at the facility. All employees are required to wear a face mask at all times.
Screening Policy:
ARS facilities are following Centers for Disease Control and Prevention (CDC) guidelines, and we have strong infection control policies, procedures and systems in place. As recommended by the CDC, our clinicians are screening all patients and employees for fever and respiratory symptoms, as well as administering a rapid COVID-19 test prior to admission.
A pre-admission acceptance is a preliminary determination that indicates you are appropriate for admission to our facility. Based on your presentation upon arrival or during your stay, it may be determined that a different facility may be more appropriate.
Visitation Policy:
For the safety of all patients, family members, visitors and staff, visitors may only enter an ARS facility during designated visitation times. A patient's treatment team must approve any visitor, and visitors are required to wear a facemask at all times. Patients in the medical detox or inpatient programs do not have in-person visitors to focus on their recovery.
Questions or Concerns?
If you have questions or further concerns about any of our policy updates, please check back frequently, or you can reach out directly by calling 855-387-3291.
Next Steps
Knowing what to expect can help you arrive feeling ready and prepared to begin your session.
You'll receive a few emails from us. One of those will welcome you to Nobu, our virtual behavioral health application where you can create your account, login and see your upcoming scheduled appointments and message your clinician directly. A second email allows you to complete your electronic consent forms for treatment and finally, you should receive a confirmation email for your upcoming appointment(s).
Even if you've scheduled an in-person appointment, Nobu can be used to communicate with your clinician. If you scheduled a virtual or nursing appointment, those will take place directly within the application, so make sure you complete registration and have downloaded Nobu on your preferred device or can login on your desktop device.
Please sign your electronic consent forms, which you'll receive in both email and as an SMS before your first appointment.
What to Bring
The most important thing to bring is yourself and a positive outlook, but there are a few other items that are needed for your session.
A valid ID
Insurance card/information
Relevant medical records
Note-taking aid, like a pen and notepad/journal (optional)
Travel Details
Denver Mental Health and Counseling is located 630 Plaza Drive, Suite 100, Highlands Ranch, CO 80129. Parking is available on-site.
Expectations Upon Arrival
You should arrive at the facility 15 minutes prior to your scheduled appointment. This will ensure we have ample time to check you in and confirm necessary details prior to your session start time.
Please bring all necessary documentation with you for the appointment.
Our Facility
The facility is centrally located, which helps to provide a smooth transition to clients from The Recovery Village at Palmer Lake who are seeking aftercare in our outpatient program as well as offer convenient access to potential clients seeking outpatient mental health care.
Inside, you'll find comfortable meeting and treatment rooms that set the stage for healing.
Treatment Programs & Therapies Offered
We work with each and every patient to create a treatment plan to meet your unique needs and goals for therapy.
Primary Substance Use Disorder or Primary Mental Health
Denver Mental Health and Counseling offers programs for those seeking outpatient addiction treatment or mental health counseling. For those with a substance use disorder and a co-occuring mental health disorder, we can treat both simultaneously for holistic healing and long-term success in recovery.
Intensive Outpatient for Substance Use Disorder Only (In-person or Virtual)
Our Intensive Outpatient Program (IOPs) offer rigorous treatment programming while allowing you to live at home, in a sober living or other supportive environment, attend school, go to work or take care of other daily responsibilities while also receiving your substance use disorder treatment. Typically, you'll attend IOP services between nine and 20 hours per week either in-person or virtually.
Outpatient Rehab
Outpatient rehab is similar to our IOP program, but usually with less scheduled treatment hours per week. Outpatient addiction treatment at Denver Mental Health and Counseling can include individual, group and family therapy sessions, access to medical care, and medication-assisted treatment, if needed.
Psychiatric Support and Services
Access in-person or virtual psychiatric support and services through our facility. Professional mental health counselors can provide short or long-term support for a wide variety of mental health concerns.
Medication-Assisted Treatment (MAT)
Denver Mental Health and Counseling also offers medication-assisted treatment (MAT) to supplement your addiction treatment plan. MAT utilizes medications along with other types of treatment to help with withdrawal symptoms, suppress cravings, reduce a substance's ability to produce a high or create adverse side effects when the substance is used.
Alumni Program
During addiction treatment, you become a part of a dynamic recovery community. That doesn't end when you leave treatment at The Recovery Village at Palmer Lake or other program. After treatment, we offer access to local recovery resources and professionals to help keep you sober and accountable to your relapse prevention plan. Staying connected with others who understand what you're going through is an essential part of sustained long-term recovery.
Our Facility Care Team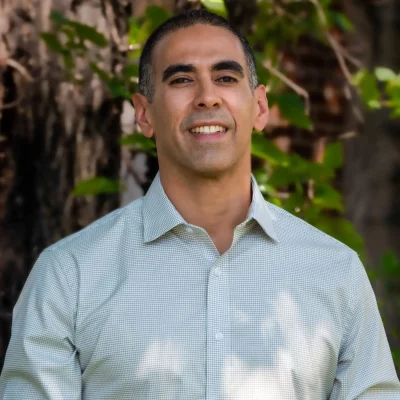 Bruce Santiago, LMHC, LPC
Clinical Director
Adam Richmond, MD
Medical Director
Insurance & Your Obligation During Treatment
Many insurance plans offer coverage for mental health and/or substance abuse counseling. As you may know, nearly all health insurance plans require you to pay some out-of-pocket costs. These expenses may include Deductibles, Co-Pays, Coinsurance and Maximum Out-of-Pocket Expenses (collectively referred to as the "Patient Responsibility").
Your individual Patient Responsibility will vary based on a number of factors including:
Your individual benefits plan
Type of services received during treatment
Other services offered but not covered by your insurance provider (such as lab tests, non-covered prescriptions, etc.)
A representative at the facility will review your Patient Responsibility with you at the time of your appointment. Payment for treatment is due at the time of treatment.
It is your responsibility to check with your insurance provider prior to your treatment at Denver Mental Health and Counseling to understand your individual benefits plan. Please note that your insurance plan may not be a "participating provider" with Denver Mental Health and Counseling. You are responsible for all non-covered and out-of-pocket costs related to your treatment.
Get Help Today
If you're ready to begin treatment for mental health concerns or substance abuse, we're ready to help. Call today to schedule your first appointment and begin living a healthier, happier life.
Medical Disclaimer
Denver Mental Health Counseling by The Recovery Village aims to improve the quality of life for people struggling with substance use or mental health disorder with fact-based content about the nature of behavioral health conditions, treatment options and their related outcomes. We publish material that is researched, cited, edited and reviewed by licensed medical professionals. The information we provide is not intended to be a substitute for professional medical advice, diagnosis or treatment. It should not be used in place of the advice of your physician or other qualified healthcare providers.